Introduction
Geometric curtains are modern conception. Even few decades back you have only known geometry as a subject thought in school. But in modern times the concept of geometry is incorporated in designing of curtains.

What are geometric curtains
As you all know, geometry deals with different shapes. In geometric curtains, these shapes are used in the design. The shapes that are mostly used in these curtains are-
Triangle
Circle
Square
Rectangle
Oval
Rhombus, etc.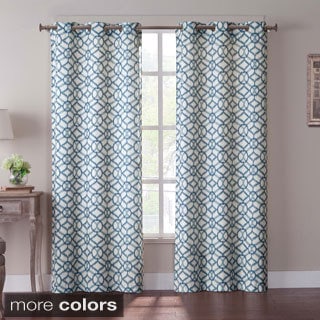 These geometric shapes are used in different patters with different shapes to give a unique design to the curtains.
Use geometric patterns anywhere
One plus point in using a geometric pattern curtain is that, you don't have to think about any specific wall color or arrangement; when using it. You can use this pattern anywhere in your room. Because it comes with different color in the same pattern, it blends with a variety of color schemes.
Always handle these type of curtains lightly. As it has a flow in its pattern, try to maintain that flow when you are pulling it. It will actually enhance the beauty of your room
It is better to handle any curtain softly if you are pulling the curtain too hard for opening it or even closing it; it can hamper the material of the curtain
Try to avoid too much washing. These types of curtain mostly have two or more color combination; over-washing of the curtain may cause fading away of color. And it will look very awkward
The alignment should always perfect, otherwise it may give a clumsy look
Geometric curtains are a good way to make your home look rich and gorgeous. Variety of patterns are available in online and offline stores. Select one according to your taste and make your home look trendy.